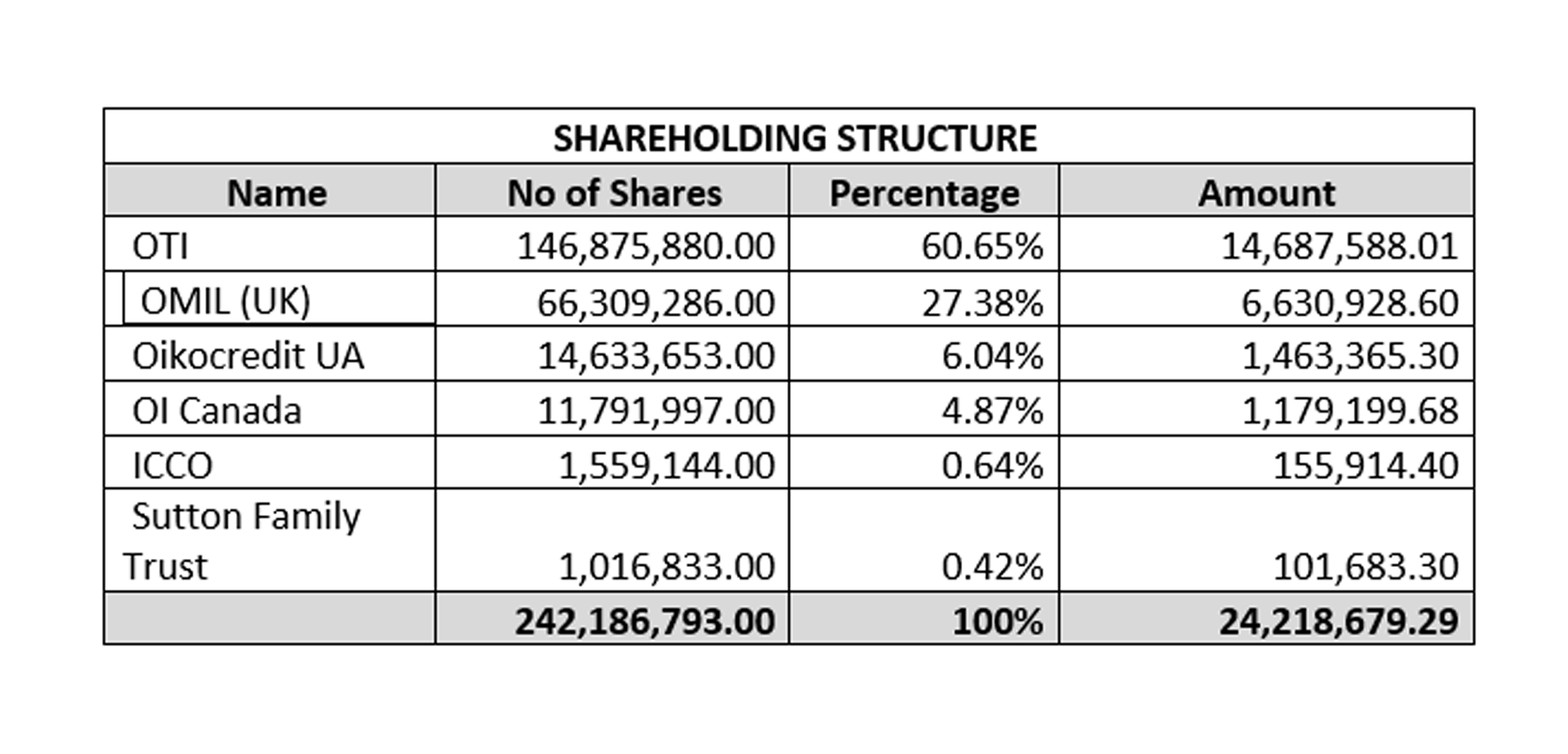 PROFILE OF KEY SHAREHOLDERS
Opportunity Transformation Investment (OTI) is a US corporation registered in Illinois. OTI is 100% owned by Opportunity International, a major US based charity dedicated to creating income generating opportunities for poor families in developing countries through microenterprise development. OTI was created in 2001 to own and manage investments in commercial microfinance organizations and banks that are part of the Opportunity International Network. As at the end of 2016, Opportunity Transformation Investments had 100% ownership in Opportunity Bank Serbia. It had 66% shares in Opportunity Microcredit Romania, 72.1% shares in Opportunity Columbia, 80.5% shares in Opportunity Bank Malawi and 36.7% shares in Opportunity Uganda.
Oikocredit, a global development financing institution is currently one of the largest private financiers of the microfinance sector worldwide. It has an Ethibel label and it is one of the few ethical investment funds, which finances development projects in the world benefiting disadvantaged and marginalized people. Oikocredit is a unique cooperative society, which encourages investors to invest their funds in a socially responsible manner. Loans are channeled through a network of Regional Offices managed by local professionals in Latin America, Asia, Africa and Central and Eastern Europe. More than 50% of its outstanding capital is with financial intermediaries, or microfinance institutions. As, a worldwide cooperative and social investor, it promotes sustainable development by providing loans, capital and capacity building support to microfinance institutions, cooperatives, fair trade organisations, small and medium enterprises (SMEs) and renewable energy projects in developing countries. It also supports agriculture and agro processing, services and manufacturing. As of September 2017, OikoCredit had funded 781 partners in 70 countries with an outstanding capital of 935.1 million euros.
ICCO is the Interchurch Organization for Development Cooperation. It works to eradicate poverty and support development by promoting structural justice. ICCO is primarily a financing organization and often disperses Dutch and European government funds. It also offers emergency aid, capacity-building programs, and loan assistance when possible. Programs focus on three thematic areas: basic social services provision, fair economic development, and democratization and peace building. ICCO also brings together enterprising people in the Netherlands and in developing countries, as they work in 44 countries in Africa, Asia and Latin America. With its motto; 'worldwide commitment', ICCO, fights together with local partner organizations in many countries against poverty and injustice. It is currently undertaking 125 projects in 36 countries.
Opportunity International Canada is a charity driven by the belief that everyone has the right to live their lives with dignity. Opportunity International Canada is a support partner of Opportunity International Savings and loans.
Interchurch Organisation for Development Co-Op (ICCO) is an inter church organization for development cooperation. ICCO gives global financial support and advice to local organizations and networks that work for better access to basic facilities, initiating sustainable economic development and enhancing peace and democracy. ICCO also brings together enterprising people in the Netherlands and in developing countries, as they work in 44 countries in Africa, Asia and Latin America.