Christie Love Koufie
Head of Transformation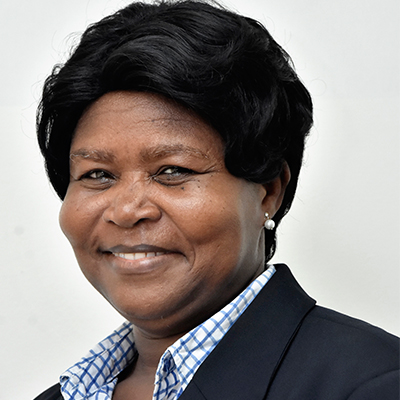 Christie Koufie joined Opportunity International in 2004 as an Executive Secretary having worked with Sinapi Aba Trust from 1994 and Faith Investment from 1988 to 1990.
This therefore has given her over 29 years' experience working in the Non-banking financial sector.  She has worked in the following capacities at Opportunity International, Branch Administrator, Transformation Officer/Manager, Relationship Manager, Transformation Manager and a Gender Specialist since 2018 until she was appointed as the Head of Transformation.
Christie has rich experience in outreach and engagement with people at all levels. She has led numerous initiatives and acquired a lot of experience in community engagement, and has a full appreciation of this aspect of the role. Additionally, Christie has a good appreciation of the tenets of Social Performance Management and Client Protection Principles, having worked within the Transformation department for over ten years and participated in projects in this area.
She exhibits a deep understanding of the Christian principles, very passionate about clients and demonstrates the soft skills which form the basis of the Opportunity International transformation agenda.
Christie academically is blessed with a Master of Business Administration from Atlantic International University – Honolulu, Hawaii, USA.  A Bachelor of Business Administration from Christian Service University College (Affiliated to the University of Ghana), Kumasi, A Diploma in Secretarial Duties from the Kumasi Technical University.  She also has three (3) other Diplomas from The College of Professional Management, Great Britain.
Opportunity International Savings and Loans comes up with results that are actually implementable. That is our strength compared to other savings and loans companies.
Christie went through training in February 2018 in Gender Capacity Building Training organized by Access Alliance, USA.  In the same year, she went through Digital Financial Services and Gender programme for three months, August to October 2018.  Christie attended Digital Financial Service – Women Focus, a training organized by OI-UK.  She also visited Tanzania in October 2017 for a summit dubbed Making Finance work for Women.  These above mentioned training and more others she has attended helped to increase her knowledge and skills to enable her perform her duties as expected.