OPPORTUNITY LOAN HAS HELPED ME TO OWN SIX BUSINESSES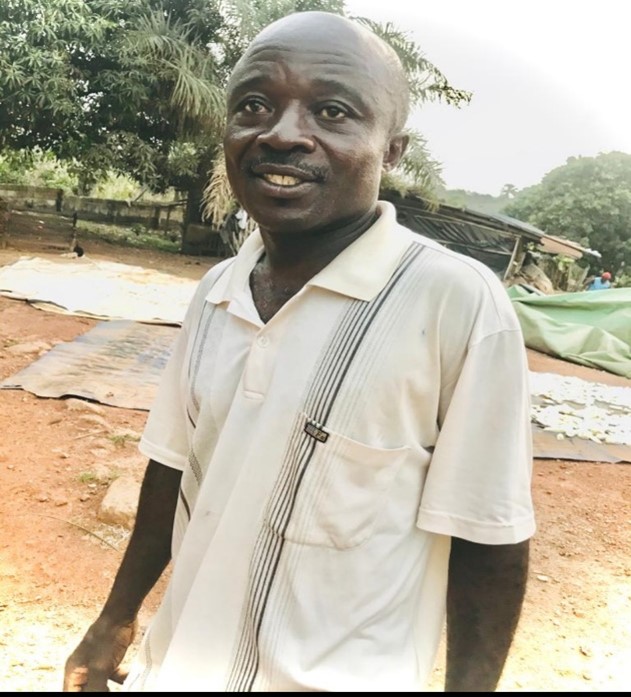 Mr. David Owusu-Ansah is a happy- go-lucky gentleman who is married and blessed with 6 children.  He is a client of Abuakwa branch and a member of Nkosuo Trust Group.  His father was a store keeper and his mother a farmer, but when the client completed his SHS program, his father had an accident and was paralyzed and so it was difficult for him to pursue his academic dreams. As a result, the client travelled to Lome in Togo for greener pastures.  
David became a shoe shine boy at Lome until he met a Ghanaian who was working with an electrical/welding company in Lome who enrolled him as an apprentice in the company to learn new skill. His expectations were met in Togo but later war erupted in Togo and so he moved to Nigeria, where he was using his electrical/welding skill to earn a living.
David wanted to travel to Europe with the money he had saved but he received help from a Nigerian friend who patronizes his services. This friend helped him secure a shop and was dealing in spare parts and vehicles between Nigeria and Ghana. He was doing well in Nigeria but decided to return home after receiving message then, that the Ghanaian economy had improved while that of Nigeria had started deteriorating.
Back in Ghana, David started a poultry farm in his uncle abandoned poultry farm. He had about 2,500 birds, when the birds started laying, they were attacked by bird flu, the mortality was high and eventually he lost all the birds.

sections of David's pigs and piglets in their sty.
Later, a friend introduced him to pig farming where he used the poultry pen to start with 4 pigs and now he owns about 400 pigs.
David was fortunate to have heard of Opportunity International Savings and Loans Ltd.  through a friend to grow his pig farm when it became necessary.  His first loan amount was GHS700 with the Nkosuo Trust Group and his current loan amount is GHS70,000  
He came to know that pigs thrive well on the husk of rice. That encouraged him to diversify into rice farming business and through that he added a rice mill with his own investment and took a loan to purchase a thresher. The residue from the rice mill feeds the pigs and he rents the thresher to other rice farmers in his community to generate additional income.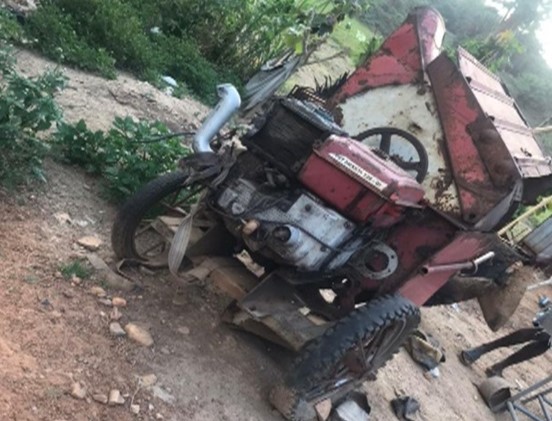 He needed a tri-cycle to transport the feeds and so took a loan to purchase one which he hires to other people when not in use.
The client ventured into pawpaw farming as it was also a good business in his community. He used other loans received from OISL to purchase pawpaw seedlings and grew them on a 10-acre family land. He harvests and sells the pawpaw to traders and feed the pigs with the ones that do not come out well.
 David's thresher and tricycle for his business and renting purposes.
David also planted cassava among the pawpaw, the cassava is about 9-acres of his pawpaw land. He harvests and sells the fresh cassava roots as well as the dried ones (konkonte) and the peels of the cassava are also used to feed the pigs. The client planned very well to feed his pigs with good and healthy food but with no or less cost.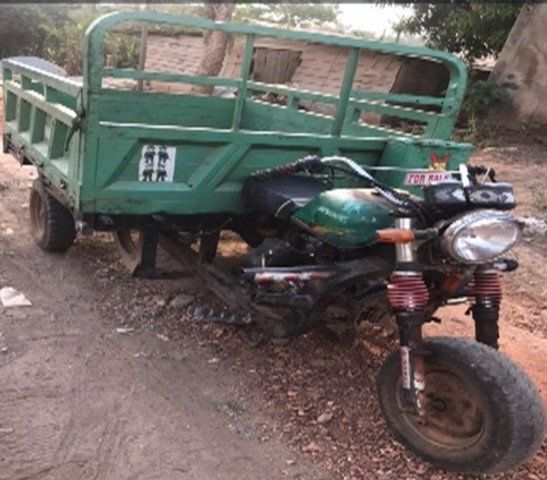 David was introduced to coconut farming which he has taken his current loan to grow on his 3.5-acre family land. He has also purchase a plot of land he wants to build on. He is taking care of all his six children through primary, secondary and tertiary schools.
The loans have enabled him to diversify his business, he now owns six businesses: the piggery, the tri-cycle for transport, the mill and thresher for hiring, the pawpaw farm, the cassava farm and the coconut plantation. He is also working on his building project.  He has more than 8 permanent workers and hires over 20 laborers who assist him in business through which they also earn their income. 
The client's family is so proud of him because of his achievements and his ability to provide for both immediate and remote family members. David's community are blessed to have him provide variety of services to them. The high patronage of his services also encourages him to invest more in his community.
SUCCESS STORY OF ROSEMOND DARKWA
Rosemond Darkwa, a 41-year-old passionate hairdresser and beautician was introduced to Opportunity International Savings and Loans (OISL) in 2009 at Madina branch by her husband Solomon who worked as a taxi driver. Solomon had closely observed the positive changes of the businesses of some of the women who trooped into the branch for support and so when her wife expressed the interest to open an account with a bank, he quickly recommended OISL.
After her own warm experience with the institution, Rosemond also introduced the Hairdressers' Association in her community which she belonged to OISL. She was an executive member of the association and so it was easy for her to lead forty (40) of the members to open personal accounts and also an account for the association. Later in the following year, the association was introduced to our trust group loan facility and 4 Trust groups were formed out of it, including Apple Eye trust group where Rosemond belonged and served as the Chairlady.
She received her first loan amount of GHS300.00 at a time where her business was run in a small kiosk to boost her working capital. After a while, she moved into a container, but today, with a running 'Adehye' individual loan amount of GHS10,000.00 her salon has expanded into a spacious shop with hair, hair accessories and cosmetic products added for sale to her customers.
Rosemond and her husband were tenants at the time she joined OISL but to the glory of God they have moved into their own 5-bedroom house. Their 3 children are being well educated in a private school. She has trained over 30 other young ladies in hair dressing and other beauty arts and she expressed with joy how some of the ladies she trained have come out more successfully and better off. She has therefore created about 75 more jobs as a result of these ladies she has trained.
The client has become a trainer/mentor/counsellor to many young ladies in her community who look up to her for skills training, mentoring and counseling. The success story of Rosemond came amidst severe challenges including sacrifices in group guarantee to keep the loyalty of her group to the institution. She also recounted how a cosmetic shop she built from her 4th loan collapsed as a result of flooding.
She was ejected 3 times from different business locations but she explained that with prayer and determination not to give up on her goals, she has prevailed. Rosemond, first on the left posed with her family in the picture above. She has plans to open a super salon where she can train many younger ladies. Rosemond appreciates the support she received from OISL over the years and she is grateful to her husband too for the support he provides.
Auntie Adomaa, the Community Organizer, Provides Decent Living for her Family and Others
Madam Abena Adomaa is full of gratitude to Opportunity International for the transformation she has experienced in her life from "nobody" to be "somebody" that others depend on for their daily bread.
Auntie Adomaa, as she is affectionately called, is a 46-year old, married to Mr. Oliver Kwabena Ofosu and they are blessed with four beautiful children. She hails from Odumase, a community in Sunyani the capital city of the Brong Ahafo Region. She started as a farmer to support the home whilst her husband was also into maize merchandising.
Eight years ago she realized that the farming was not yielding much to take care of the home so she made up her mind to do something else supplement her income from the farms. She decided to go into soap making because that was an area of interest and also she thought it's a commodity commonly used in every home daily basis so it will be easy to sell. She learnt how to make the cake soap popularly called 'Azuma blows' within 2 months and started her own production about a week after. Auntie Adoma started the soap production alone and in very small quantities because she was selling them all by herself as a hawker within Odumase and its environs and sometimes on the Sunyani market days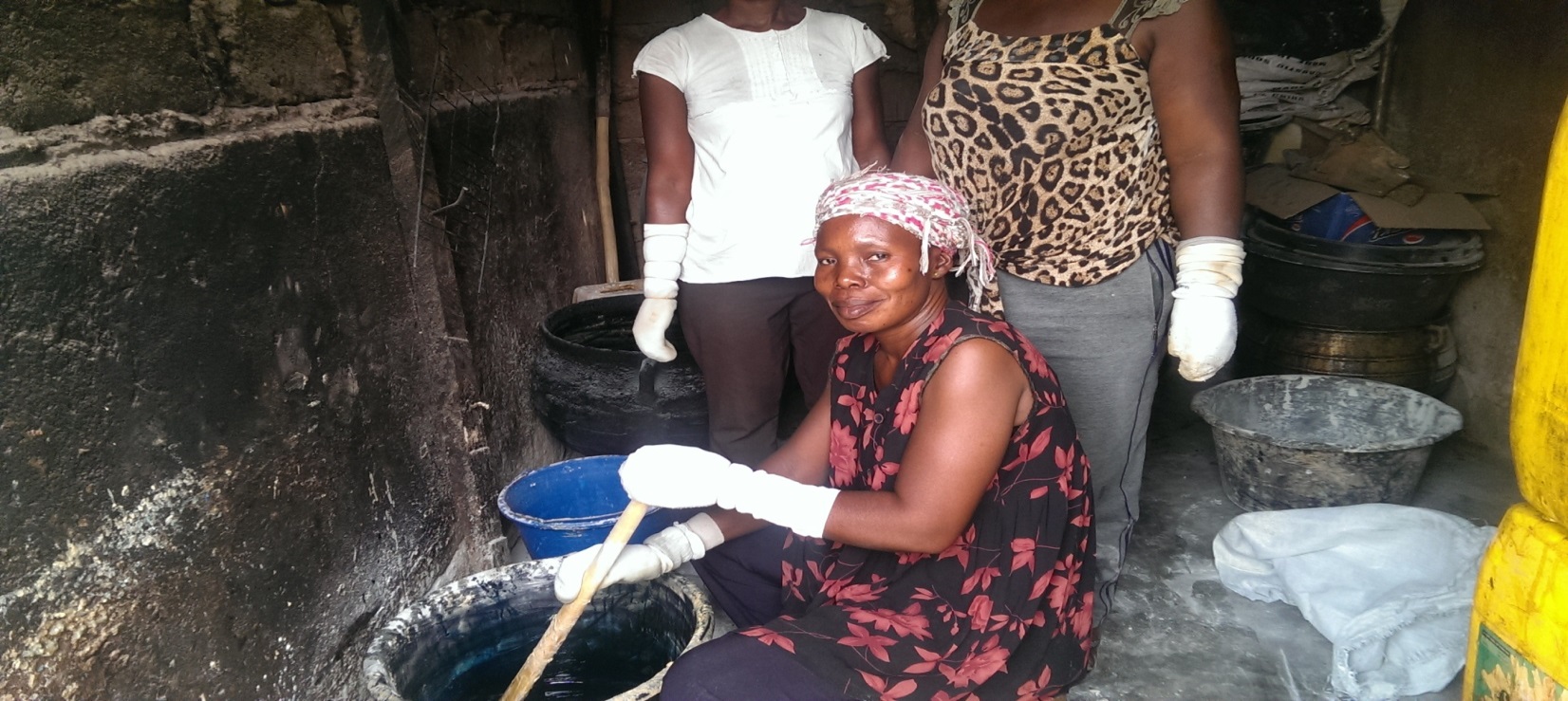 Just when her business was picking up, situations became very difficult for family in the year 2010 when her husband became very sick and had to undergo surgery. From that time till date her husband has not been able to work again so taking care of the home and the children's education became her sole responsibility.
However, a year later she met a staff who introduced the OI to her in 2012. She saw this as a lifeline from God and became actively involved. She subsequently became the Community Organizer for the officer at Odumase thereby helping to mobilize clients for OISL. She started with an amount of GHS900 (Nine Hundred Ghana Cedis) and is currently in her 13th cycle with an amount of GHS 4000 (Four Thousand Ghana Cedis).
With increased working capital, she is able to produce liquid detergents and parazone in addition to the cake soap. She also has five sales girls she works with and 31 stores she distributes to in Kumasi, Accra, Sunyani and some other towns within Brong Ahafo region. With the financial support given her, Auntie Adomaa is able to take care of her family single handedly and has also organized 4 women whom she has given free training in her community. These women also support her in her production and she gives them daily stipends to support their daily needs.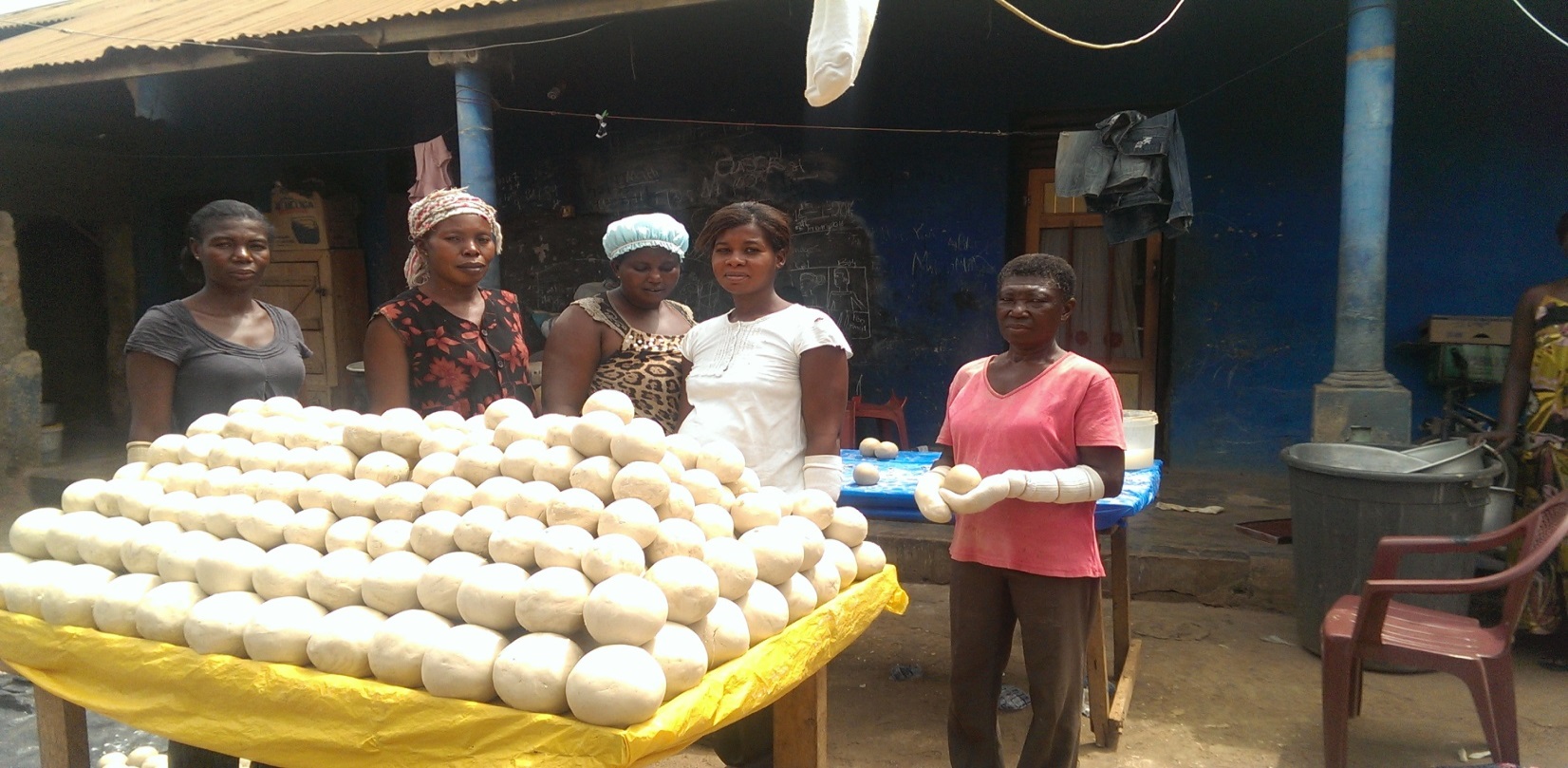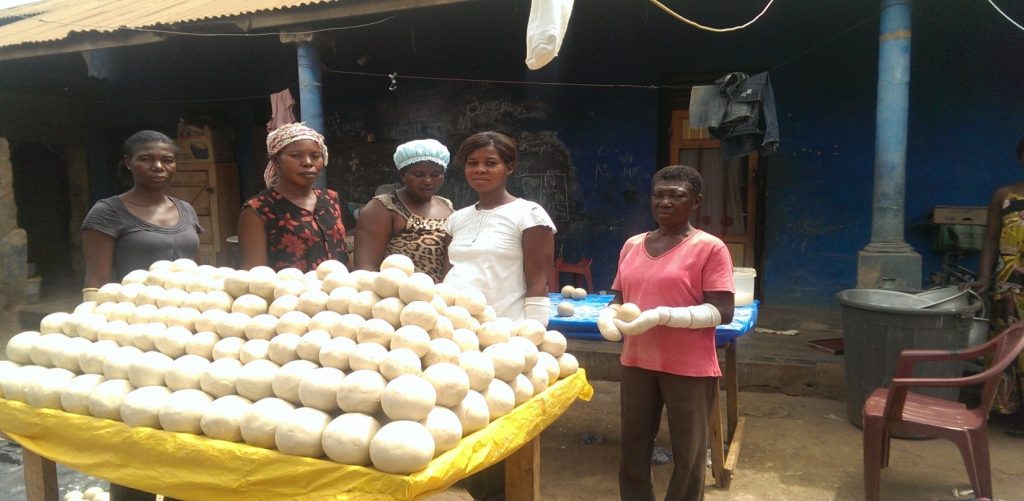 Auntie Adomaa has been able to put up a four-bedroom house which is at the lentil level. She is hoping to complete in a year or two so that she can move with her family from the family house into a more descent and private accommodation.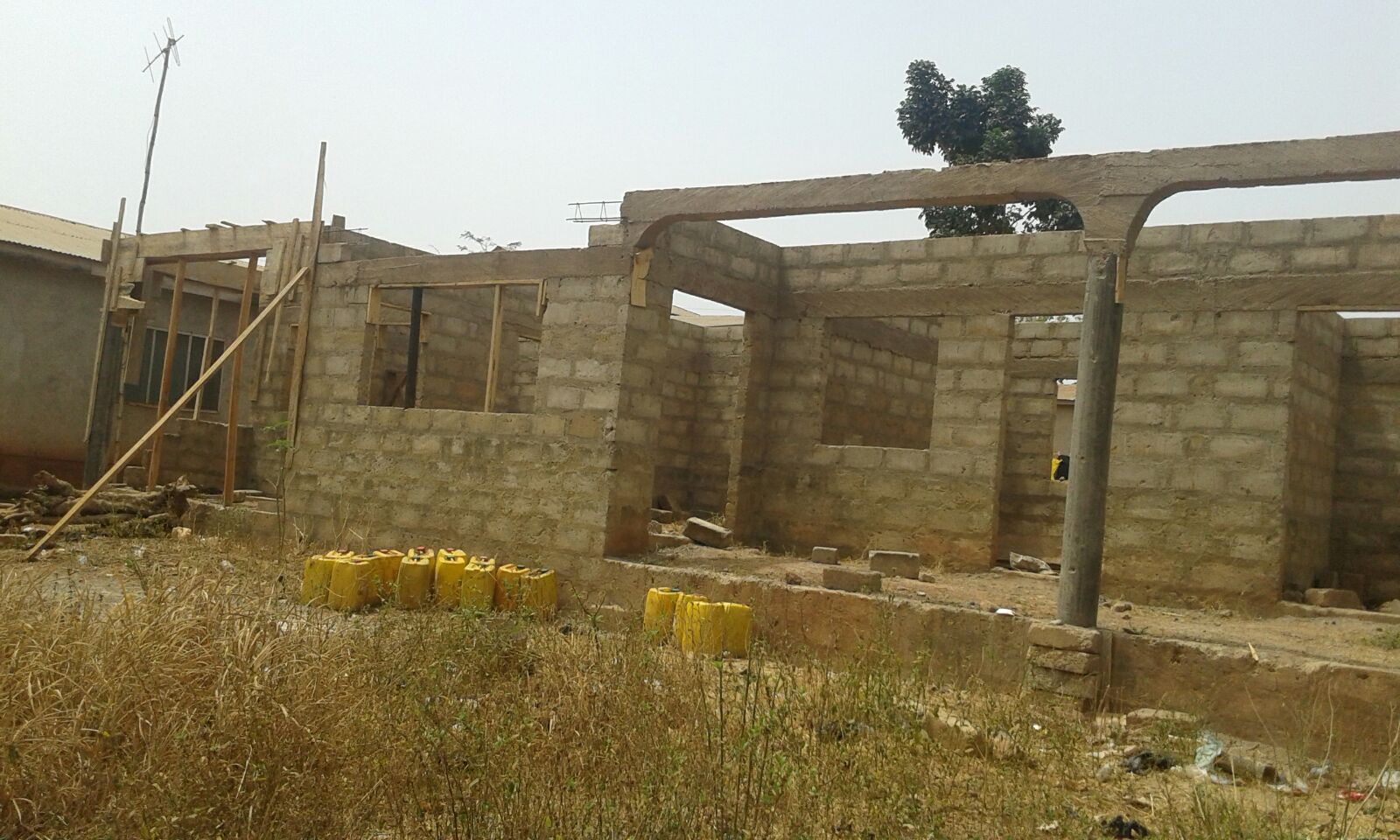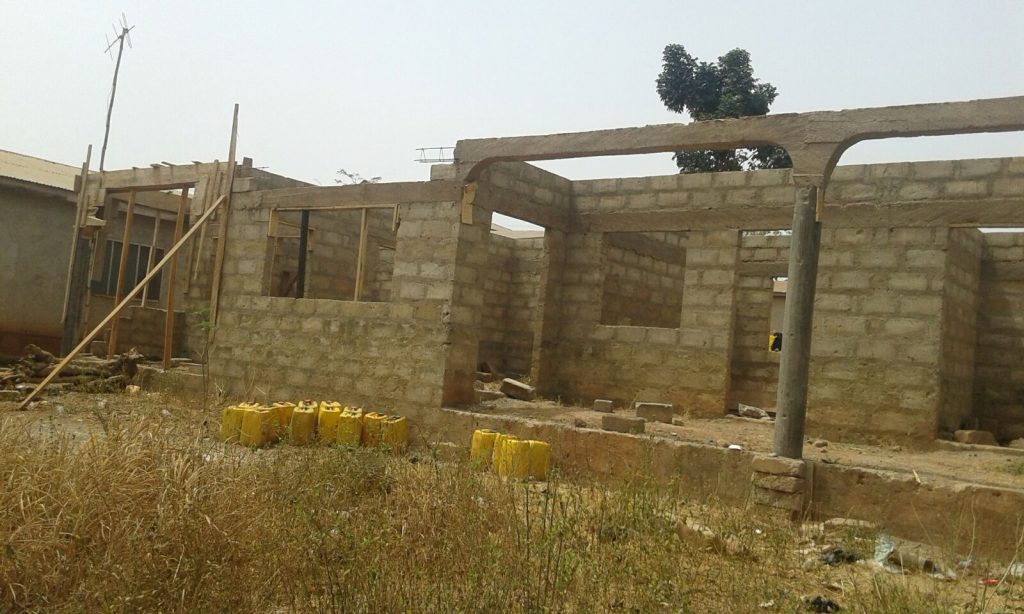 Once again Auntie Adomaa is full of praises and is appreciative of the OI team for their support every step of the way. She continues to promote and market OISL to people in her community and uses her transformational story as an example of what awaits them when they sign on.
It is impossible to walk through the main markets of Kumasi, Techiman and Accra without meeting the smiling faces of our clients. The branch openings in Accra and Techiman in 2005 presented grand opportunities to gather with our clients publicly and listen to their stories firsthand.
PROVIDING FINANCIAL SOLUTION AND TRAINING HAS LIFTED YOUNG ROSEMARY FROM POVERTY TO A LIFE OF DIGNITY AND FULFILLED FUTURE
Her Story
Mrs. Rosemary Kumi-Arthur is the owner of Veniros De-Zigns and she is 29 years of age. Rosemary could not continue her education to the Senior High School because of financial challenges at home, being the second of five siblings.  Her father decided to enroll her in a vocational school to study to become a seamstress instead of staying at home for a year before continuing her education. She came out as a fully-qualified seamstress in 2004 and was employed in a fashion designing company.  She worked there for 6 months but being eager to learn more she joined another company where she learnt different designs for a year.
Rosemary believes she is a born entrepreneur and so working for somebody was uncomfortable for her. She decided to stop and start something on her own. She was living with her parents then, and started sewing in her bedroom with the manual machine she used whilst under training. Rosemary recounted the challenges she had whilst sewing from her bedroom: there were no light in the area, so she had to use a box iron and her hand machine. Determined to make something out of this, she did not give up and continued sewing for people until a friend of her mother introduced her to Opportunity. Her mother's friend noticed her hard work and determination and so added her to the group she was part of, but she was a bit skeptical because she thought sewing from her bedroom will not qualify her for a loan.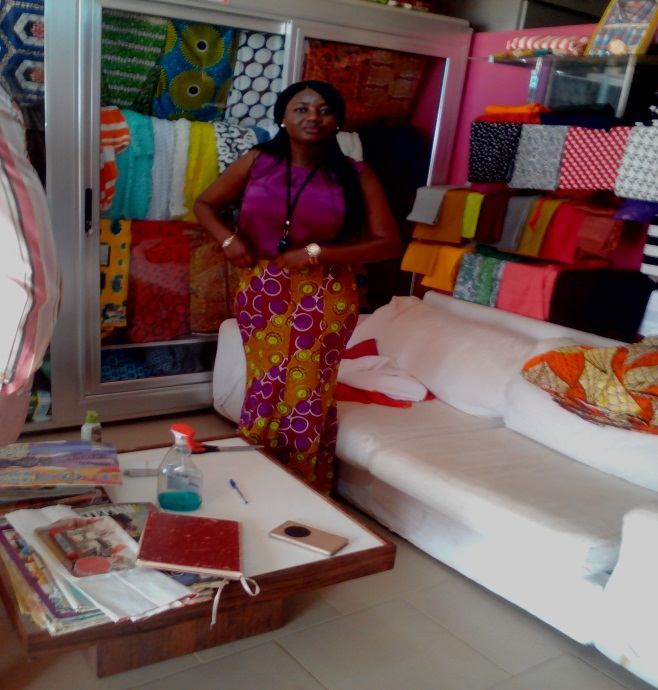 However, Opportunity looks out for people like her to support, and so she was given her first loan amount of Ghc300 in 2008 by the Dome branch. Rosemary recounts her relief when she got the loan and she used it to buy an electric machine because it was easier to sew with. She recounts how the financial education and business training given during orientation helped her to start saving. She decided to invite a friend to join her to sew because she was at home after school, unemployed. Business picked up a bit, because she had the extra hand, and the electric machine, and so she was able to pay off the loan with ease and could save as well. This gave her courage to go for a follow-on loan.
After taking the loan for two times, the group started having challenges with default, and so she approached her Relationship Officer who advised that if she could get a guarantor, she could get the individual loan. This was a better option than the group and so she did that, and received her first individual loan amount of Ghc1000. This helped her to get a container and a second industrial machine and 2 more helping hands. Unfortunately, after operating in the container for 3 years, the landlord asked her to vacate the land and destroyed the container. "I had to move my things back to my mother's house and sew from there and I felt like I have gone back to where I started from", Rosemary recounts.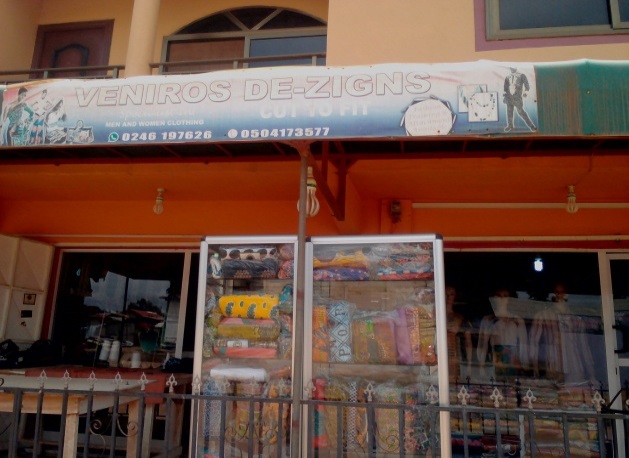 This however did not deter Rosemary, and she gathered courage to approach Opportunity for a bigger loan to rent a 2 room shop which she felt will be more secured than the container on someone's land. This decision was an ambitious one and her mother tried to talk her out of it. Rosemary tells me, because she dreams big, she foresaw the business growing and so she was not scared of going for that facility. Rosemary approached her Relationship Officer and requested for a loan amount of Ghc10,000 even though she qualified for only Ghc5,000. The Officer bought into her dream and convinced his branch to give her Ghc7000 which she used to acquire the 2 room shop she presently occupies.
Her Business Success
Rosemary can confidently say she has made a lot of good customers who are loyal. She sews for bridal parties as well as individuals. She has graduated 6 apprentices who she trained, presently employs 4 young girls on work and pay basis and has 5 girls now understudying her. Even though Rosemary did not get the chance to go to the secondary school, she made it a point to attend leadership and entrepreneurial trainings and courses any time she had the chance to. According to her, the training and networking exposed her to different ideas, gave her courage to face challenges in the fashion industry. She has plans to start a degree course in fashion design next year. She is currently servicing a loan amount of Ghc10,000.
As fate will have it, his RO was transferred and a new RO took over from him. Rosemary and the new RO became quite close, with him guiding her on how to utilize the loan. To God be the glory, Rosemary and her RO got married in May 2017, a development which meant that, a new RO should be assigned to her.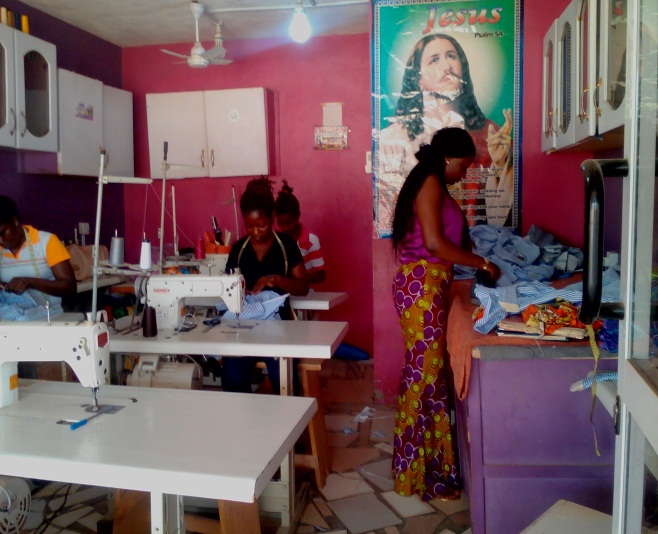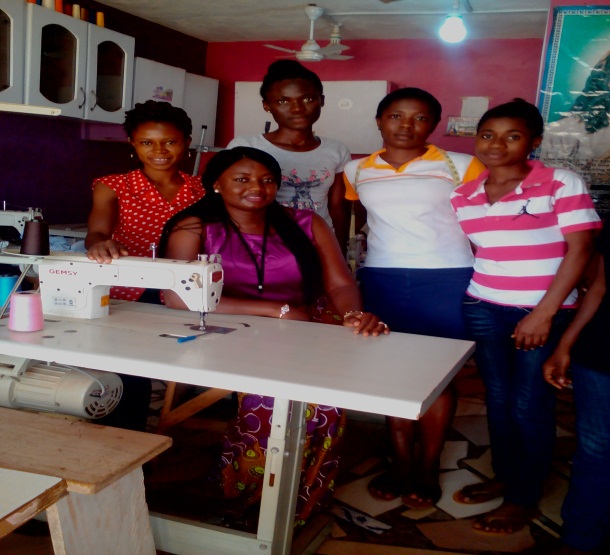 Her Vision
Rosemary has the ambition of putting up a 2 storey building  fashion house where Venirose De-Zigns will train young girls in sewing and dress making;, a workshop where the trainees will do their practical attachments; a showroom where all finished items will be displayed  and a beauty and wellness center. She has purchased the land for this purpose.
A Word for Opportunity
"Opportunity is my savior in this business I would say, if you take God out' quoting her exact words. The interest rate was quite low, compared to the banks. All Relationship Officers who have worked with me believed in me and supported me with training and advice. Opportunity saw something good in me and have supported me through out. It is my prayer that OI will buy into my big vision of a fashion house and support me to achieve it. To top it all, Opportunity has given me a good husband" These are the paraphrased words of elated Rosemary.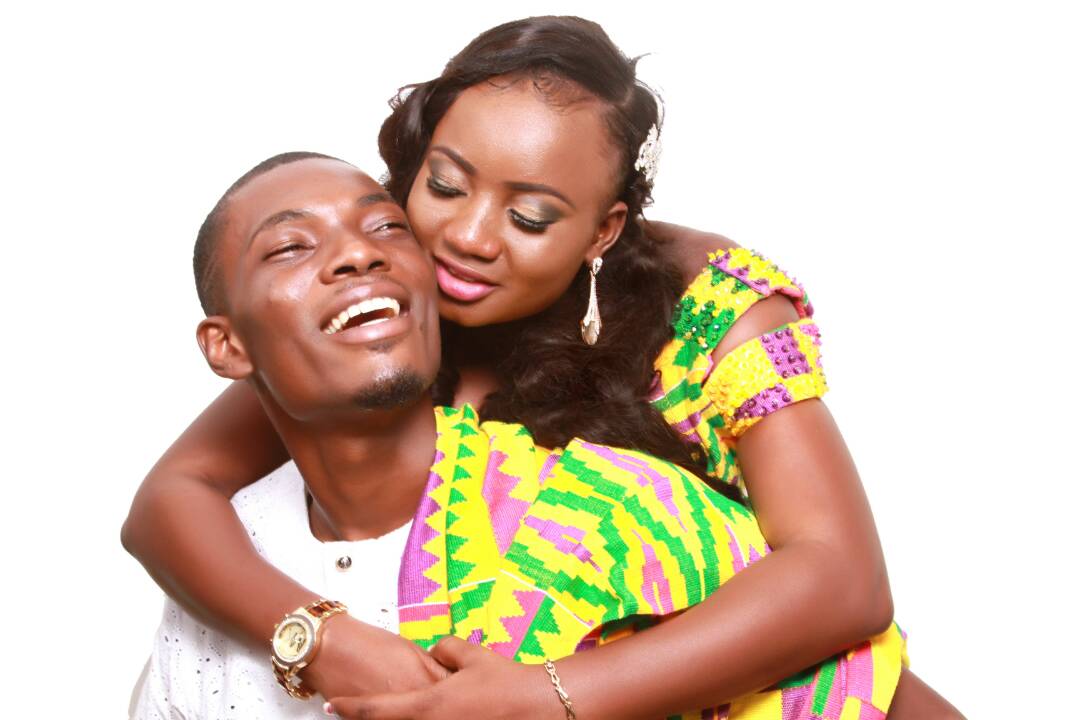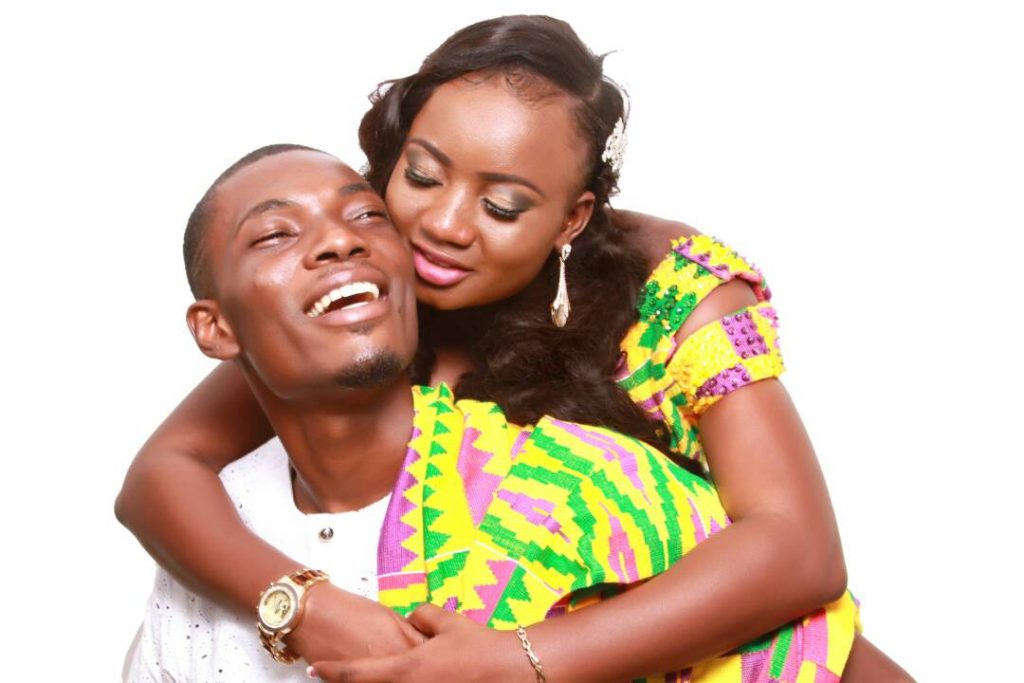 MR. PHILIP ASUAKO THE RETURNEE TELLS HIS SUCCESS STORY
Mr. Philip Asuako is my name and I am a 66 year old with 6 children living at Drobo in the Brong Ahafo region with my wife and family. Mr. Asuako, as I am popularly known, is the Jaman District Chairman for the Ghana National Association of Private Schools (GNAPS) and the proprietor of St. Theresa's Crèche and JHS School at Drobo.
I have been a professional teacher for 28 years and St. Theresa School is actually the second school I have been able to establish on my own during this period.  Establishing my own school started out of frustration after living fruitlessly in Nigeria from 1980 to 1983. I decided to leave Nigeria for greener pastures by travelling to Germany when things became difficult but this was also not successful because the travel agent deceived me and duped me of all the money I had at that time. I got frustrated and decided to return back home to Ghana, where I moved to Jato in the Western Region to start farming to support the family. I went into cocoa farming which was very lucrative at that time with a 17.5 acres land which also did not do too well like I expected.
After struggling so much with the farming, a friend advised me to attach the classroom teaching work to help my situation and even asked somebody to mentor me for a while. Somehow after some time, it occurred to me along the line to start my own school to help the people in the community at that time. Within a space of about a month, I had been able to gather 30 children to start my first school. The number increased drastically that at class five, the cost of running the school with very little resources become too much for me to bear so I handed the school over to the SDA Church in the community that time under the government's supervision.
However, I did not give up the school idea so with the experience from the first school, I moved to Drobo to start the second one and named it as St. Theresa's School after my wife, Theresa Manu because she supported me throughout the difficult and hard times so I thought it was just right to honor her with that.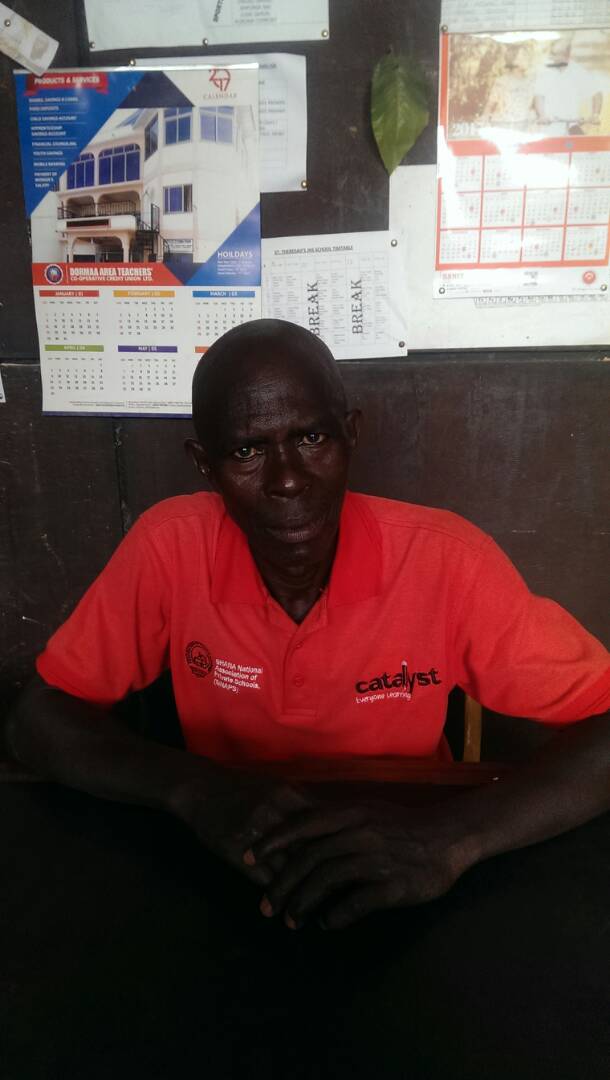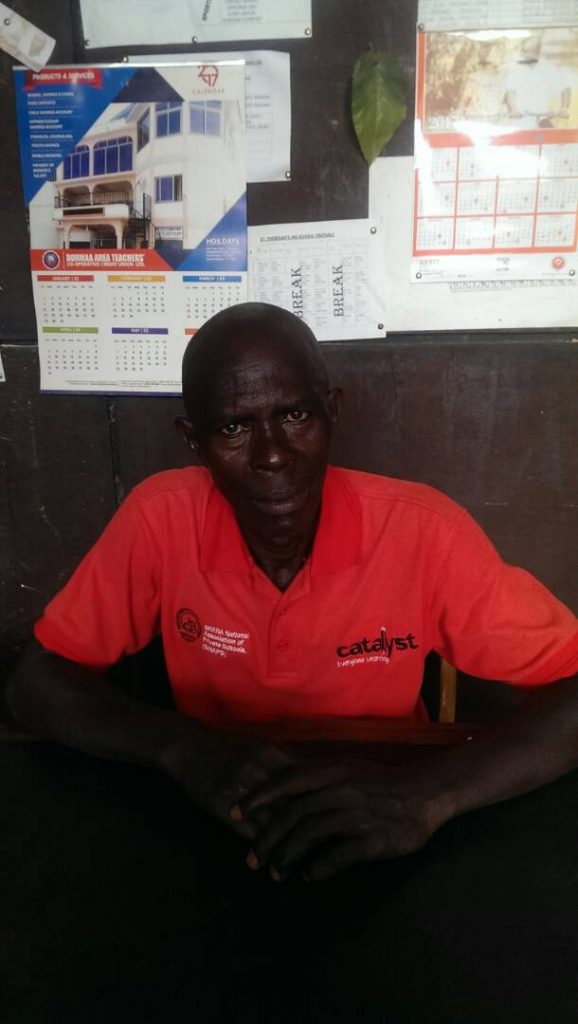 Along the line, there was the need to get bigger and more classrooms to accommodate the increasing student's population, so I discussed with a friend who introduced OI to me. My first facility was GHS5, 000 which was used to start the foundation of a new block. One of the days the Branch Manager then, Miss Grace Ameyaa, paid a working visit and was so impressed with how far the school was doing and proposed a top up which I agreed. This increased my loan to GHS40, 000 and that was all I needed to turn things around for the school.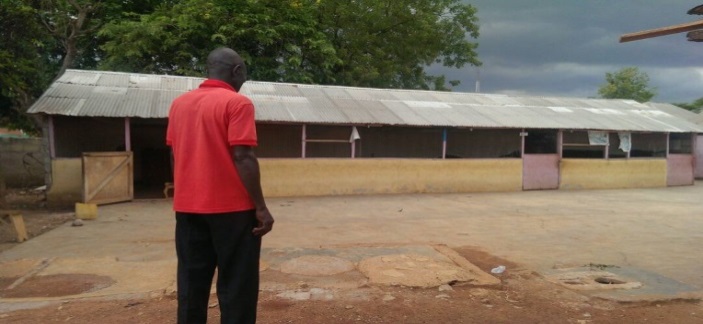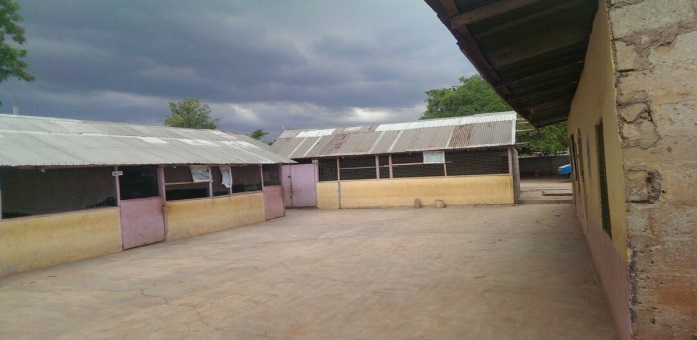 Currently after adding on a new building, we have been able to admit more students and employed more staff. Our student's number which used to be 300 has now shot up to 900. We used to have 18 staff number but now we have 32 in all. This has made us the biggest and most popular school in the district and I owe all this to OI for your assistance. I couldn't have gotten here without you and I will keep talking about you to the other schools within my catchment area. God bless you.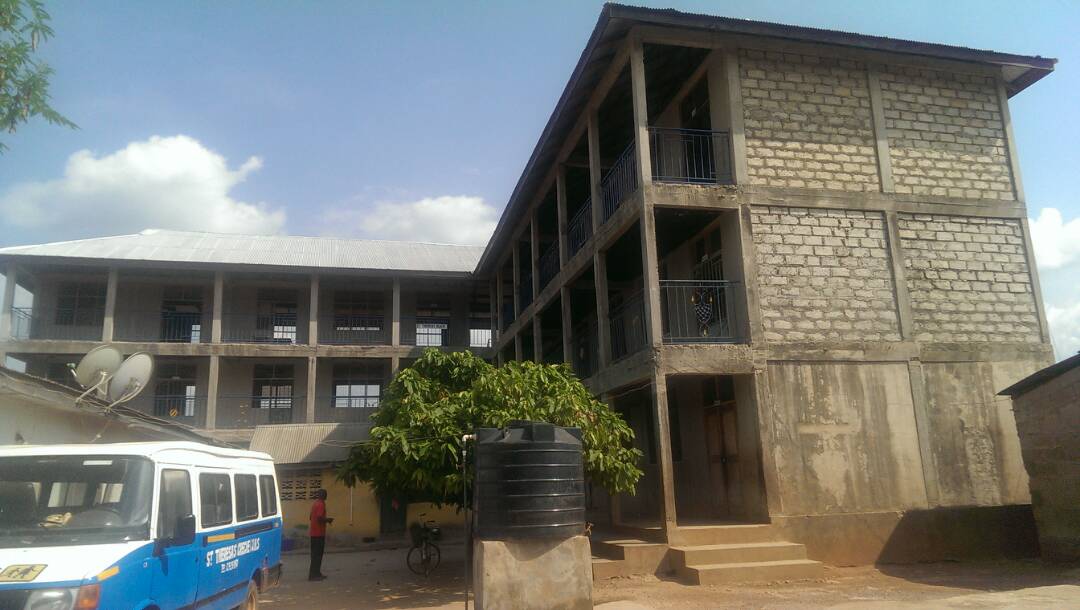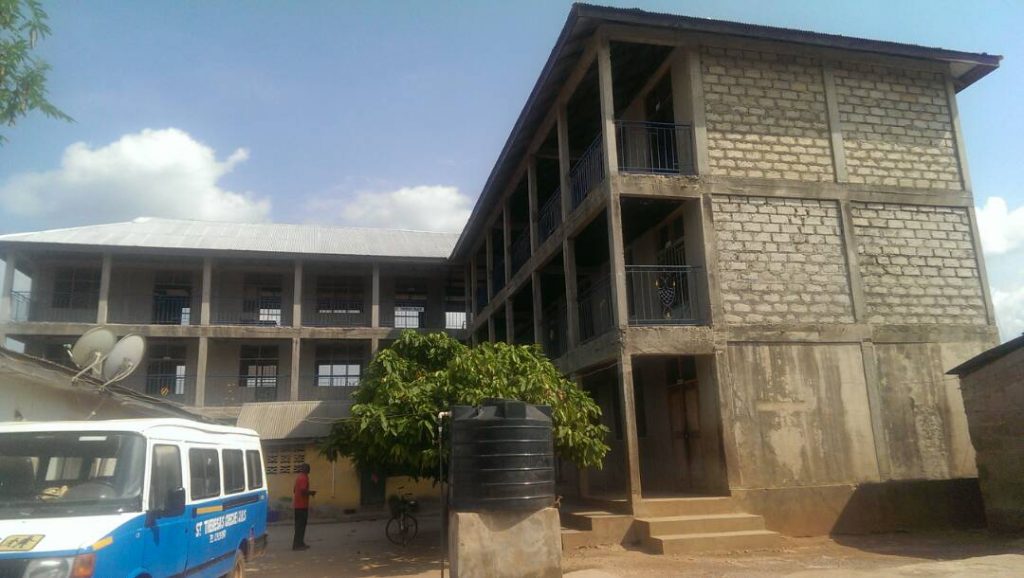 WITH OISL DISABILTY IS NOT INABILITY
Mr. Osman is a talented man who started his life at the age of 12 years, and out of frustration, moved from his parental home to live with a neighbor who showed sympathy on his disability.  Osman was the only disabled among his seven siblings; he was neglected by his family due to his disability.
Client started business as a shoe shine boy on a table top at his community and also helped others in their farming activities for his daily upkeep.  He was enrolled at a shoe making center at Tamale by a Good Samaritan.  Osman was determined and showed persistence to survive several challenges in order to complete his study at the Tamale Shoe Making Center.  His determination paid off and his skills in combination with brilliant performance gained him a certificate to operate a shoe making business at Babato in the Kintampo North Municipality. He then joined the Ghana Society for the Physically Disabled (GSPD) at Kintampo.
He decided to look for a loan but many financial institutions turned him down as he had no collateral and his business then was too small.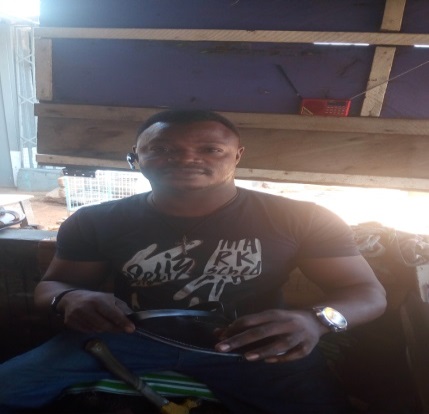 Osman Kofi's dream came to pass when the Transformation Officer of OI introduced OISL products and services to the association of the disabled. As a physically challenged person, Osman became a client of OISL and had an opportunity to access the OI Empowerment Loan when OI granted some members of the Trust Group Osman Kofi belonged to. The Empowerment Loan is a specially-designed loan facility with relaxed features designed for Persons with Disability. He received a loan of GHȻ 300.00 as his first cycle loan to purchase leather materials and other accessories for his shoe making business.  With his second loan, Osman was able to buy a banding machine to enhance the business.
Osman is now in his 5th Loan Cycle with an amount of GHȻ2000.00.  He has been able to renovate his shop and also expanded his business.  Client has seen a significant improvement in his life as well as his business.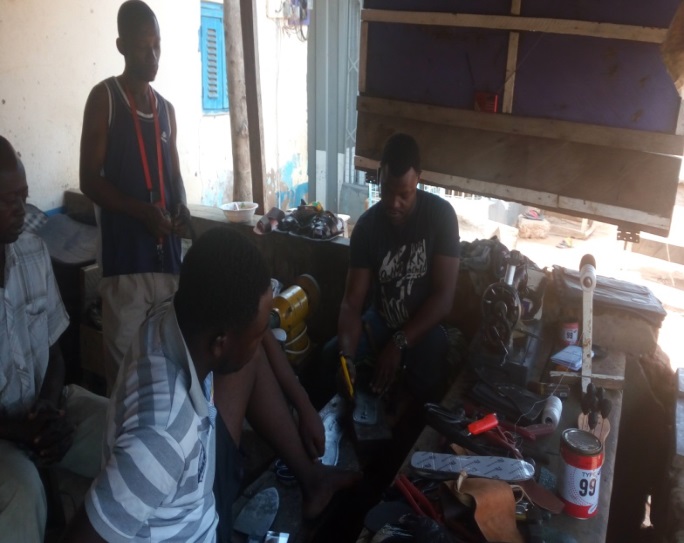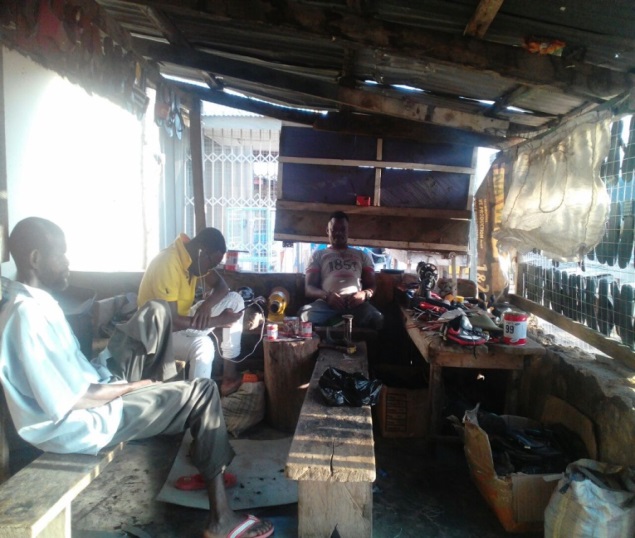 Osman's plan was to work hard to make it in life within 15 years but to his surprise, with the help of OISL's support and assistance, his dream became a reality within 3 years.
Osman no longer worries about his daily upkeep but has rather extended a helping hand to his family members who once rejected him.  He really appreciates Opportunity for having faith in him and his business and the disabled persons association as a whole.  Client now feels empowered to take care of himself and other family members.  His biggest mission now is to expand his shoe making business and take more physically challenged people to train them.
WITH OISL DISABILTY IS NOT INABILITY
Franklin Ayiku joined the opportunity family in 2006, a few years after he had started the sale of phone cards as a means for a living, under an umbrella on a small table top. Today, he is a successful mobile money merchant. When OISL sought for an agent for cellphone banking in his community, he readily met all the criteria. The branch management team is confident that Ayiku will do a good job as opportunity e-banking merchant. The financial trainings he has received over the years and his experience as a community organizer and mobile money merchant, coupled with the trust community members have in him makes him an ideal selection for the job at Sege community.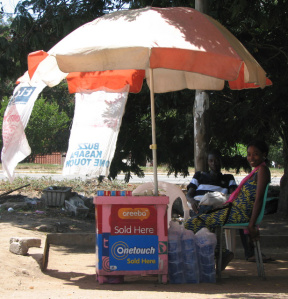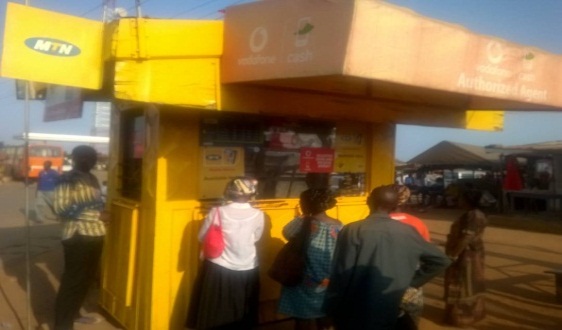 Ayiku dropped out of school after his Senior High education at Kimbu Senior High when his father died suddenly. He left the city of Accra and resettled in Sege, his hometown where he started his small business. The friend who introduced him to Opportunity group loans was a community organizer himself, so he encouraged him to serve as an organizer for Sege. He agreed and quickly mobilized 25 petty traders to form the first group in Sege. The community was then being served by Ashaiman branch and he recounted with hurdle of how they used to travel all the way to Ashaiman Branch to be served.
Client further described how relieved he was when the Community was provided with a Mobile Van and later a physical branch in Ada for their door step banking. Ayiku received his first loan amount of Ghc 700 with the intention of investing the money in the business but this changed when he had a new idea to use the money to renovate part of a house (rooms) he had inherited from his late father at Sege for rentals. This was successful since the rentals quickly brought in money which was more than the loan to run the business and repay the loan. Today Ayiku has 8 rooms for rentals and is currently in his 4th Cycle.
His business has also transformed and expanded from retailing of credit cards under an umbrella into mobile money services, sim cards replacement and registration for all the telecommunication networks.  He's able to serve 200 customers in a day with an average transaction volume of Ghc 250 in a day. His working capital has improved from Ghc 400 to roughly Ghc 40,000+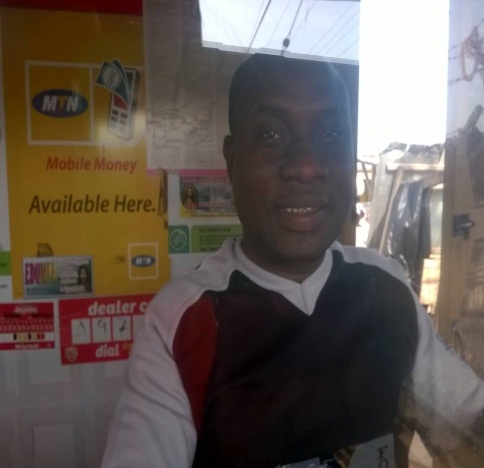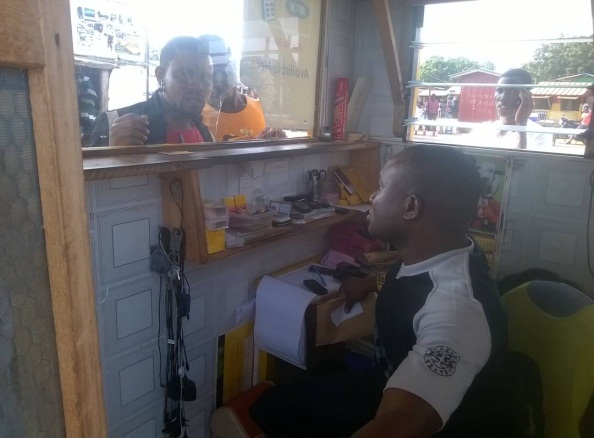 Ayiku is the leading mobile money agent in Sege and all the town folks prefer to do their mobile money transactions with him. He disclosed that his success is hinged on the trust the people have developed in him over the years. He serves with consistency and he's able to meet the needs of his customers in terms of cash availability. He ensures that he does not run out of both physical and electronic cash. His motto 'I won't let go a penny meant for me'.
He keeps good records on his finances and exhibits sound financial discipline. He explained how his long journey with Opportunity has helped improve his knowledge on money management.  He pays himself at the end of every month and this serves as a check on his expenditure. This is a value and knowledge acquired from Opportunity Financial Literacy trainings.
Client is now married with two children who attend one of the top most schools in Sege.  Ayiku fellowships with Assemblies of God Church and to his commitment and positive status change, he has recently been appointed as a member of the church board.
Ayiku handles his business virtually alone, with some support from the wife-although the business has grown to a point where additional hands are required. He has been advised to look for trustworthy hands to train for support with measures in place to ensure sound management and business continuity. Ayiku has plans to open a restaurant soon as a second business to be managed by the wife and sister. Ayiku is proud to be a part of the Opportunity Family.