Ernest Yerekuu
Chief Operating Officer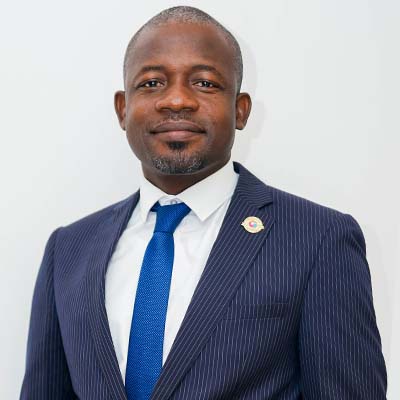 Ernest has over seventeen (17) years of experience in the financial services sector, about six (6) of which have focused on managing funds which are targeted at MSME banks in Africa.
Ernest started his professional career from Opportunity International Savings and Loans Ltd. in 2004 where he completed his National Service. He was immediately employed as a Treasury Officer and rose to Treasury Supervisor by 2008, with principal responsibility for the preparation and timely submission of Prudential Returns to the Bank of Ghana, Opportunity International Partners and Investors.
He was subsequently appointed the Financial and Market Risk Analyst, a role he diligently executed from 2008 to 2009 before his promotion to the position of Banking Operations and Compliance Manager. As the Banking Operations and Compliance Manager, Ernest supported the Chief Operations Officer in ensuring effective and efficient operations of all Branches and the Data Unit. This involved the drafting and reviewing various processes and procedures, resourcing branches and other supporting units to ensure uninterrupted banking services, establishment of operational targets and ensuring the implementation of performance management systems among others.
Having excelled in the role of Banking Operations and Compliance, Ernest was promoted to the position of Treasurer of Opportunity International in August 2010 where he led and managed the Treasury team to achieve value for the institution and meet reasonable expectations for each individual in the department. 
In December 2012, Ernest was appointed the General Manager of Cyrano Management Ghana, a subsidiary of Cyrano Management S.A; a Fund Management company specialised in structuring financing for MSME focused banks globally, until December 2018. At Cyrano, Ernest had responsibility for the management and development of portfolio pipelines in Africa as well as coordinating and implementing board decisions and the decisions of the Investment Committees of the various funds under management.
Ernest was appointed as the Head of Treasury of Opportunity International for the second time in May 2019 where he oversaw the restructuring of the department and led the growth of incomes from trading and investment activities.
Ernest has participated in various consultancy services both locally and internationally in areas of Agricultural Value Chain structuring, Restructuring of Microfinance Institutions, Product Development, Digitization and Automation of process flows.
Ernest therefore comes on board as the Chief Operations Officer of Opportunity International with vast practical international experiences in banking and finance, project management and investment, with a clear mission to optimize the operating capabilities of Opportunity International to maximize customer satisfaction within a controlled environment.
Ernest Yerekuu holds a BSc. in Banking and Finance and an MSc. in Development Finance from the University of Ghana. He has participated in various trainings and conferences in leadership, project management, investment for social impact among others.
Opportunity International Savings and Loans comes up with results that are actually implementable. That is our strength compared to other savings and loans companies.